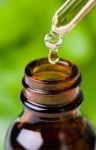 Tea tree oil comes from the tea tree, a shrub-like tree native to Australia. The oils from the tea tree were historically used by Australian aboriginals for antiseptic, healing purposes. Tea tree essential oil is used in many commercial products as an active ingredient.  You can bypass all the artificial dyes and chemicals and just use pure tea tree oil!
Tea tree essential oil can be used to treat the following ailments:
Acne

Athlete's Foot
Fungal Toenail Infection
Dandruff
Thrush
Periodontal disease
Boils
Lice
Sore throat
Tea tree essential oil is also commonly used for the following purposes:
as an Antiseptic
in gardening, to deter insect and animal pests
Tea tree oil is reputed for it's outstanding natural properties.  It is a natural antibacterial disinfectant that eliminates all three types of infectious organisms (fungus, bacteria, and virus).
I have used tea tree essential oil to treat my acne and cuts, as a natural deodorant, and in natural gardening.  I am always open to trying out more applications of tea tree essential oil in daily life.