Hi Guys. Sooo… this is not an essential oil post. In case you are new to my site, I want you to know that I am a real person who doesn't believe that essential oils solve all health problems. Case in point, this get rid of acne solution doesn't use essential oils. What I am after is bettering my life by maximizing the harm-free, if not all-natural, organic, DIY treatments I use in all aspects of my life.
Besides tea tree oil (which I know first hand is great as a spot treatment if you can handle it, and sometimes I just can't), I keep essential oils away from my face.
So, I have finally found an acne remedy that works. While I can't say it is all-natural, I have it pretty darn close and my skin is finally HEALTHY! I have been completely acne-free, since early 2015.
My Acne Story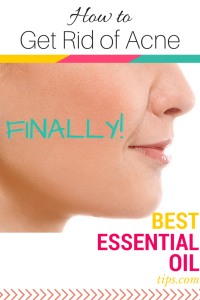 I will make this brief… I have suffered from cystic, painful acne since I was about 11. I got teased at school and could not stop picking – my face always had gross scabs. My mother, who still gets painful pimples at her age, understood my pain. She let me try many different products and permitted me to see a dermatologist. I tried what seemed like everything to get rid of my acne, including:
Almost any over-the-counter face wash and creams I could find
Proactiv
Prescription drugs such as antibiotics, birth control, Accutane (twice!)
Topical prescriptions: retinoids, benzoyl peroxide
lifestyle changes (all natural foods, lots of vegetables, regular exercise, good sleep habits, etc.)
trying vitamin cocktails
using medicated make-up (I went through so many types!!)
switching out all my body products to others that were pH balancing to my skin's pH
Still, after 15 years of battling acne and failing, I had this small hope that I would find what worked and get rid of my acne forever.
The Solution to Get Rid of Acne
The MAIN issue I had with all the topical solutions I tried, besides them not getting rid of painful pimples consistently, was that they seriously irritated my skin. My face always felt like it was burning. Sometimes I would suck it up and try to stick with it, other times I would decide I couldn't take it and try to spread thinner and thinner coatings or skip applications. It just never worked.
When I was 26 I found a site called acne.org that had great marketing for their own products. What caught my eye was that they also talked about other systems that worked for other people trying to get rid of acne, such as Accutane.
I thought that was unique – they had their own products but still positioned their site as an information hub for the acne-afflicted. I watched one of their videos, looked at their flagship product, and then, as I always do when researching about products I might want to buy, I went to Amazon to check if the product was for sale there, maybe at a cheaper price.
I found the product (more expensive than through the acne.org site), but another product also came up right below at a much cheaper cost**. That product was Claror Acne Treatment S1. The reviews were so similar, AND they had a money-back guarantee with customer support. I decided to go for it.
**(UPDATE 4/13/16) Prices fluctuate! I recommend that you check the Acne.org treatment's price before buying either, so that you get the best price. I have since used both products since posting this.**
I knew from the Acne.org site that I would also need a lotion. I decided to stray from essential oils as I know that I break out from ANY oil that touches my face (I wish I could use e.oils on my face!). So I put my Amazon-fu to good use and found the Alba Botanica Hawaiian, Aloe & Green Tea Oil-Free Moisturizer. I typically wear an all-natural, oil-free lotion with SPF during the day: Juice Beauty SPF 30 Oil-Free Moisturizer.
I followed the directions from Acne.org and found that it doesn't matter too much what cleanser I use. After just 1 week I noticed a slight difference. Within 2 weeks I had a HUGE improvement. After a month I was free of any pimples! 1 year later my scars are still healing (almost gone) and I no longer pick at my face – EVER – because there's nothing there to pick at!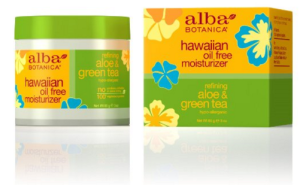 Just to be clear, I do still get black heads (well, more like light-grey heads, ick) but I have enlarged pores on my nose that are probably permanent and will therefore always clog up (again, ick) – it's just how my skin is there and that's okay. I do use these stellar pore strips that work better than Bioré and are cheaper! They seriously eliminate about 90% of the plugged pores on my nose. I even get my husband to use them (he secretly loves the results).
The Method
Do this every morning and every night to get rid of acne… seriously.
Clean your face. I honestly don't think there is a right or wrong way to do this. The goal is to remove dirt, oil, makeup, sweat, etc. from your face before the next step. I also exfoliate every night but I don't think that will be necessary for everyone. It helps minimize the plugged pores I have on my nose. Make sure your face is dry before the next step.
Apply the Claror treatment. I suggest applying a thin layer during the first 1-2 weeks of use.

AVOID

the delicate skin around your eyes (even if you get acne there – just trust me). I will often apply the Alba lotion on my eyes before applying the Claror treatment. After 2 weeks, try applying a thicker layer of the Claror treatment.
Apply the Alba moisturizer. Wash your hands and apply the oil-free moisturizer to your eye area (if you haven't already done so). Once done applying to the eye area, apply the lotion to the rest of your face. Be careful not to apply lotion to delicate skin as you may also carry the Claror treatment to that area, causing irritation.
The Claror treatment will dry out your skin and may even irritate it but the lotion will help. It is normal for your skin to sting. If however, your face starts to burn and turn red after completing steps 1-3 then you either applied too much of the Claror, your face wash and/or cloth is too abrasive, or you may be allergic to an ingredient in either the Claror or Alba products (or the cleanser you used, if new) – immediately wash your face with a cleansing product you are accustomed to. You can try again another day.
If you want to be cautious about it, before you start this treatment try testing each product on a patch of hidden skin. Apply the Claror treatment (just a VERY small amount) or the Alba moisturizer to your stomach or hip, where no one will see it, and see if you have any reaction. Try wearing each product for 5-10 minutes and then check. Remember that the Claror will dry out your skin so that patch may be dry, get a little red or even sting a bit afterwards but if you have no other reaction, you are good to go.
Always check the ingredients BEFORE use to make sure there is nothing in there that you know you are allergic to. Speaking of which…
The Ingredients
I went ahead and listed the ingredients of each of the recommended products of my get rid of acne solution below. For some of the ingredients I included links to a description if I felt they were something most people wouldn't know about, or if I had trouble pronouncing them. Although I would rather always use simple, straight-from-nature ingredients in all products I use, I find that I am comfortable enough with these ingredients.
Active Ingredient: Benzoyl Peroxide 2.5%
Other Ingredients: Carbomer, Disodium EDTA, Glycerine, Propylene Glycol, Saccharide Isomerate, Sodium Hydroxide, Water.
Ingredients: Aqua (Water), Glycerin, Cetearyl Alcohol, Octyl Palmitate, Caprylic/Capric Triglyceride, Glyceryl Stearate, Aloe Barbadensis Leaf Juice(1), Dimethicone, Glyceryl Laurate, Stearic Acid, Camellia Sinensis Leaf Extract(1), Carica Papaya (Papaya) Fruit Extract, Centella Asiatica Extract(1)*, Cucumis Sativus (Cucumber) Fruit Extract(1), Hedychium Coronarium Root Extract, Allantoin, Hyaluronic Acid, Panthenol, Sodium PCA, Tocopherol, Tocopheryl Acetate, Tromethamine, Xanthan Gum, Ethylhexylglycerin, Phenoxyethanol, Alpha-Isomethyl Ionone, Benzyl Benzoate, Limonene, Linalool, Fragrance (Parfum).
(1) = Certified organic ingredient
* = Also known as Gotu Kola extract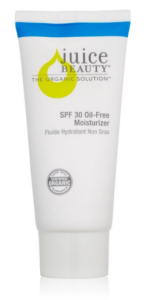 Active Ingredients: Zinc Oxide 20%.
Inactive Ingredients: Organic Juices Of Aloe Barbadensis (Organic Aloe Juice)*, Pyrus Malus (Organic Apple Juice)* Vitis Vinifera (Organic White Grape Juice)*, Capric Caprylic Triglycerides, Sorbitan Stearate, Polyglycerol-10 Laurate, Magnesium Sulfate, Tocopherol (Vitamin E), Magnesium Ascorbyl Phosphate (Vitamin C), Hyaluronic Acid (Vegetable Derived), Punica Granatum (Pomegranate Juice), Algae Extract, Cucumis Sativus Fruit Extract (Cucumber), Panthenol (Vitamin B5), Citrus Limonum (Lemon Bark), Iron Oxides, Phenethyl Alcohol, Ethylhexylglycerin, Blend Of Citrus Reticulata (Mandarin Orange); Citrus Aurantium (Petitgrain).
*Certified organic ingredient.
Some Notes…
I do notice that when I am reaching the end of the tube of the Claror treatment I get 1-2 pimples. I believe this is because the product loses its efficacy after being in the tube so long or maybe some oxidization occurs that deteriorates the solution. Whatever it is, the product seems to expire, fortunately when you have almost used it all up. That's usually a sign to me that I need to order more. I would even suggest that you order more when you reach the last quarter of the tube just to be prepared. I'm not sure if you will want to order in bulk, however. I just order mine as needed.
Each Claror tube lasts me 4-5 months. I got through a container of the Alba oil-free moisturizer every 2 months on average.
Is this Get Rid of Acne Solution Right For You?
Well, I think so. After trying SO MANY different solutions I know I found the one that works, meaning I have zero pimples… zero (seriously, besides the stuff on my nose, but yeah). However, everyone is different. I'd love to hear if this or a different get rid of acne solution worked for you – just tell me about it in the comments section below!